The Idaho Society of Individual Psychology offers workshops throughout the year specifically in Adlerian Theory and related subjects. ISIP provides the highest quality workshops which provide "Continuing Education Credits" and accreditation for "Certification of Professional Studies in Adlerian Psychology."
I. Basic Workshops

Adlerian Theory of Personality Development and Family Functioning
Adlerian Psychotherapy
Adlerian Family Therapy
Course #1 Alderian Theory of Personality and Development & Family Functioning – Idaho Falls, Idaho (April 17th & 18th) Presenter: Edward Mowry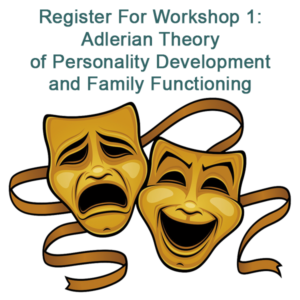 Course Objectives: To understand the the pioneering nature of Adlerian Psychology and their application to an understanding of human development and human difficulty
Holism
Social Embeddedness
Life Tasks
Teleology
Creativity/Uniqueness
Phenomenology
Striving for superiority
Gender Guiding Lines
Inferiority Feelings and Inferiority Complex
Community Feeling (Gemeinschaftsgefuhl)
The Development of Lifestyle
Family Atmosphere and Family Values
Psychological Birth Order Vantage
To Understand the "Democratic Revolution" and its impact on all human relationships, including parent/child and family relationships.
CLICK HERE TO DOWNLOAD THE BROCHURE
---
Course #2 Adlerian Psychotherapy – Boise, Idaho (May 15th & 16th, 2020) Presenter: Steven Maybell, Ph.D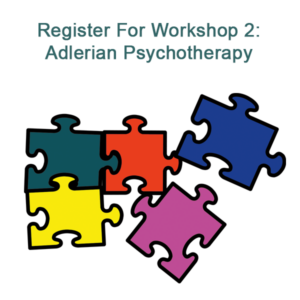 Course Objectives: to understand . . .
How Adlerian Theory applies to the practice of psychotherapy
The four-phase model of Adlerian Psychotherapy
The principles of the helping relationship "Adlerian Style"
The central focus of Lifestyle Assessment (the Psychoclarity Process) including the ability to utilize a structured Lifestyle Assessment Interview guide and the Lifestyle summary
Respectful approaches for creating insight
The process and methods involved in facilitating reorientation in psychotherapy
Brochure Coming Soon
---
Course #3 Adlerian Family Therapy – Lewiston, ID (Date TBD ) Presenter: Edward Mowry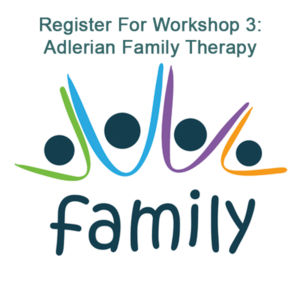 Course Objectives:
 Apply Adlerian Psychology concepts and principles in family therapy
Understand the impact of the "Democratic Revolution" on contemporary family relationships
Assess the parenting style/goals of misbehavior and support families in developing relationships based on mutual respect
Incorporate Lifestyle Assessment into Family Therapy
Learn creative Adlerian Psychology applications with younger children
Brochure Coming Soon
Basic Series Certification Requirements
Complete the BASIC Professional Certification Series.
One of the series courses is offered each spring and fall in each of the cities in the 1, 2, 3 order listed below.

Adlerian Theory
Adlerian Psychotherapy
Adlerian Family Therapy

This Series is offered in Boise, Lewiston and Pocatello.
The courses may be taken in any order.
The courses may be taken as a continuing education opportunity without the intent of completing certification.
Upon completion of the Series and one ISIP Conference, the participant is awarded the: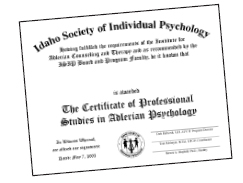 CERTIFICATE OF PROFESSIONAL STUDIES IN ADLERIAN PSYCHOLOGY and is eligible to register for ADVANCED courses.
Each Basic Series Course
Cost: $195 (20% Discount offered for 3 or more registrants from the same agency)
Boise Workshops are $225 and includes lunches both days.
Full Time Student only $95
Class Limit: 40 Participants
All workshops are conducted on a Friday and Saturday, provide for 12 CE hours approved by NBCC, and present an opportunity for one Graduate Continuing Education Credit through Northwest Nazarene University. Classes limited to 40 participants.
The Series classes may be taken as a continuing education opportunity without the intent of completing certification.
---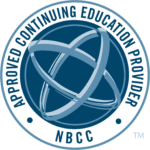 Idaho Society of Individual Psychology is an NBCC-Approved Continuing Education Provider (ACEP) and may offer NBCC-approved clock hours for the events that meet NBCC requirements.  ACEP solely is responsible for all aspects of the program.  NBCC Provider #: 6525